Technological advancement escalates competition in the market and makes this difficult for businesses to thrive. Also, marketing approaches have accelerated to more significant heights, so digital agencies want to expand their services to scale their businesses. They are opting for a white label partner to do so in a cost-effective, flexible, and easily brandable way.
With this, they can increase their clients and manage them appropriately by outsourcing the work to some reliable service provider.
While finding the right white label agency is critical, it's the first step to building a highly functional white label partnership. That's where most agency owners tend to struggle.
You need to work efficiently with your white label partner to get the best return on investment.
What is a white label partnership? 
White label partnerships are an effective way to expand your business without putting much effort into building out the infrastructure and support that comes with it. 
And the critical pillars of this partnership include –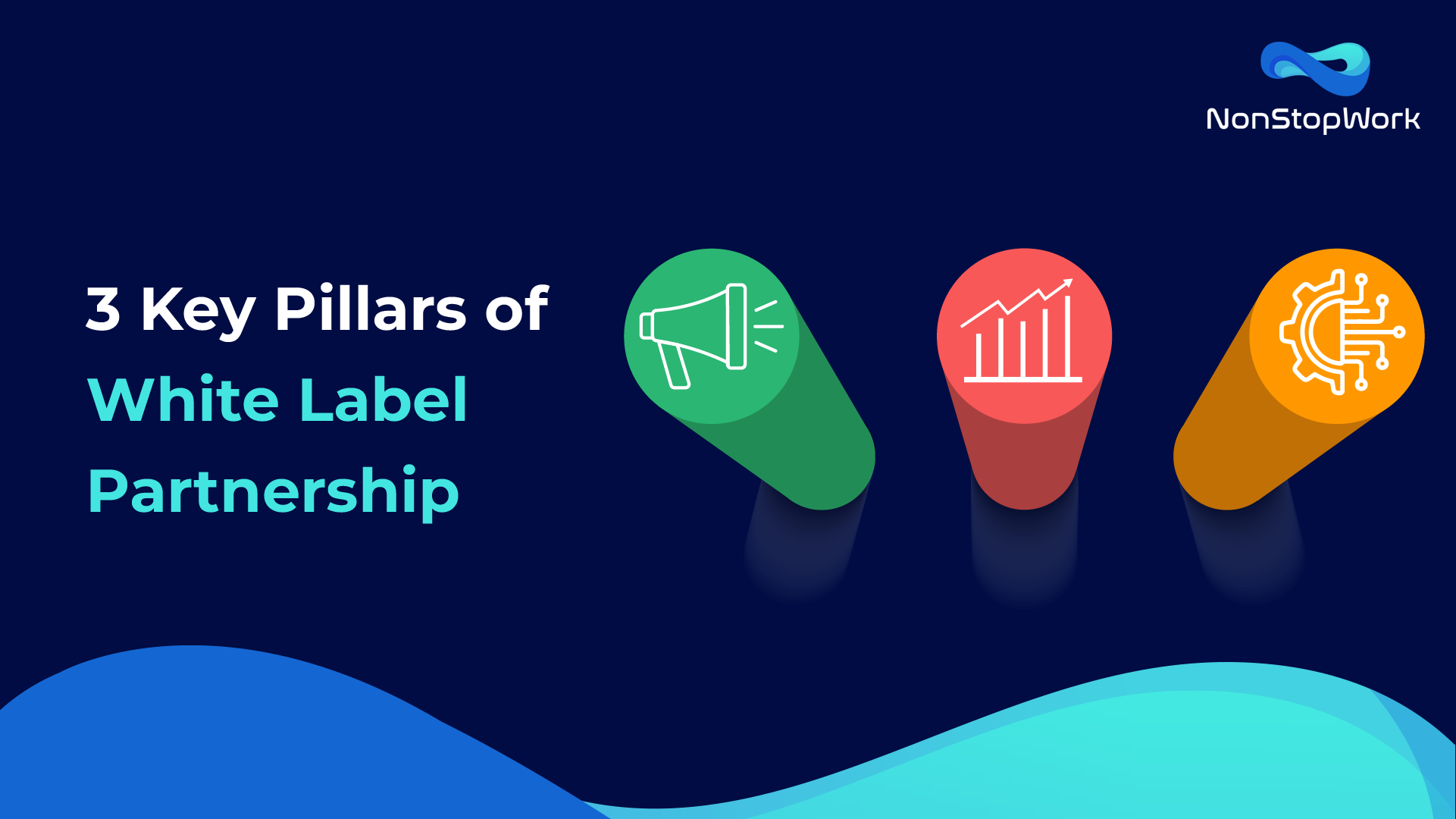 A white label agency is a backbone behind a digital agency. It needs a compelling story that shows how it can add value to a business. You can't look for a partner without a good marketing strategy. They won't want to partner with you if you don't know who you are. 
An extensive sales team with the target market's expertise is a must for building a white label partnership. They can close the deal effectively with support from their managers and marketing team. 
Building a white label partnership needs the latest technology. With outdated technologies, you can't survive in this competitive marketplace. If your tech isn't up-to-date, your partners will be hesitant about bringing their customers over because they don't want them to use outdated software or hardware.
Why focus on white label partnership?
Finding a white label partner and sharing resources to gain more business is more popular than ever. It is an effective way to expand their reach without adding new resources or spending money on them. 
Many successful entrepreneurs who have built strong brands through partnerships used this strategy. 
Partnerships are a must to grow
The world's fastest-growing brands trust partnerships. And this approach helps them adopt new opportunities and grow faster than others. It proves to be a win-win for both partners. 
Flexibility and scalability of strategy 
White label partnership allows you to make your brand unique and valuable by leveraging someone else's expertise in making the product or service. Thus, you can scale up quickly without investing your resources in developing products or services.
A white label agency knows its goals from the beginning. So, there's no chance of any guesswork between partners. Once both parties clearly understand each other, they can build a strong and long-lasting partnership and flourish faster. 
Streamlined operations and processes
With a white label partnership, you can focus on your core business and maintain a streamlined approach to the market. It helps you focus on most things. And the result is faster time-to-market for new products, increased scalability, lower costs, etc. 
How to find the right white label partner for your agency?
Although the marketplace is crowded with white label agencies, finding a suitable one is difficult for you. That's why it's crucial to be careful when searching. Here are some tips for finding the best partner for your digital agency – 
Know your goals from this partnership
Before you start your search for a white label partner, knowing your goals is essential. Do you want to offer some products or services? Do you want to sell it in a specific country or multiple countries? If you have any more questions, answer these. Think about the time and energy your business needs right now, and then look for a partner that can provide you required services. 
Define your ideal partner
To define your perfect partner, consider the kind of agency you want to partner with, their experience and expertise, services offered, revenue generated, etc. Once you have a general view of your partner, it is easier to search for the potential ones and choose one among them.
Leverage technology to streamline processes
Make sure to look at a white label agency with the workforce and infrastructure to support your business needs. Without the resource, it will be difficult for them to provide the expertise you require. 
Also, consider their industry knowledge, experience, and reputation in providing solutions for similar businesses. Thus, you can find the right partner for you.
Read on: Debunking 5 Common Myths on a White Label Agency
Top white label partnership models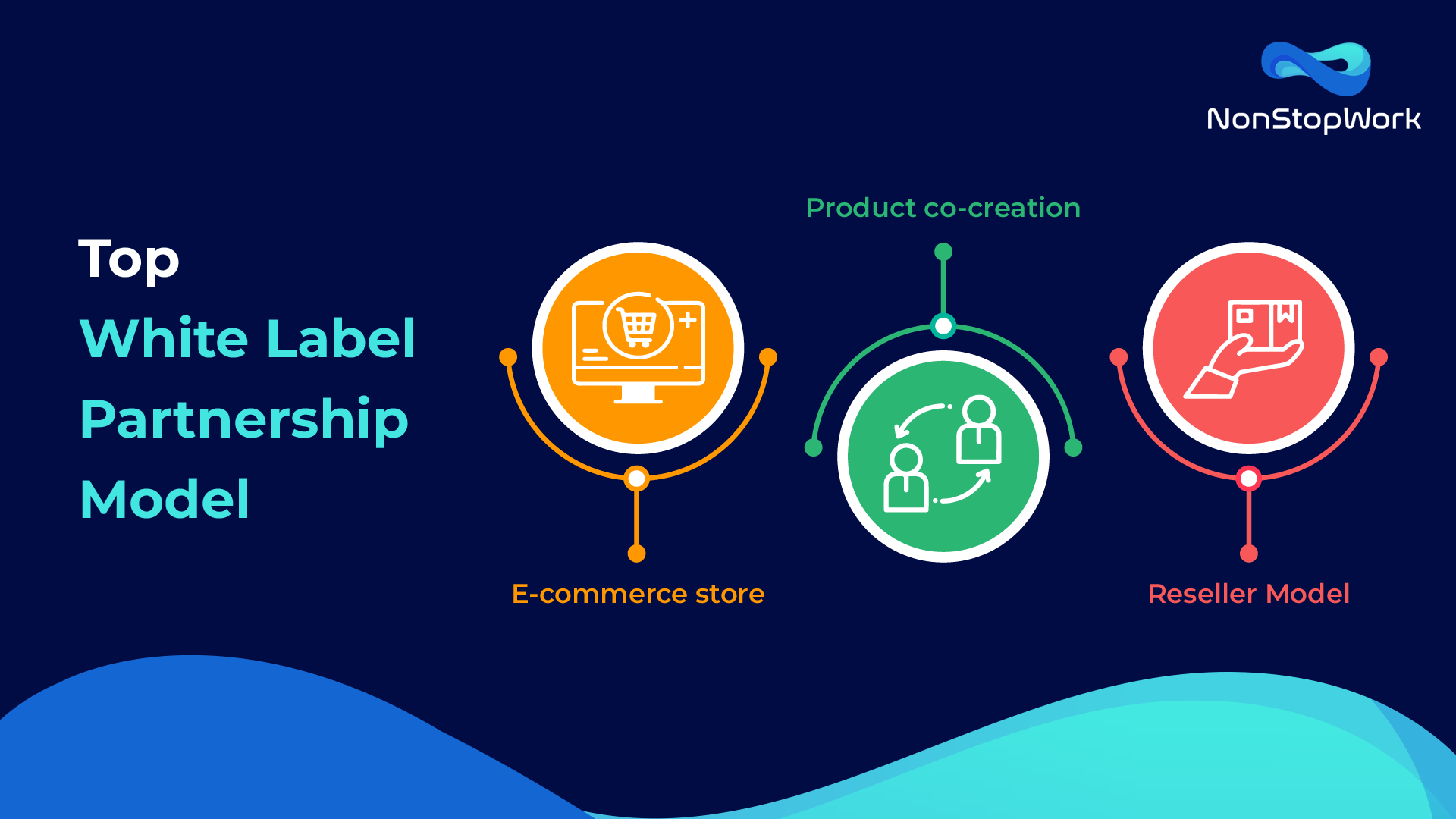 Create your brand and sell products online (on an e-commerce store), or create a partnership with an agency with an established audience and customer base. 
With this model, two agencies worked together to create an exclusive product and sold it under the brand name of the one that contributed the most to the development or marketing activities. 
It involves selling a product or service under a reseller's brand name while allowing the supplier company to maintain ownership and control of the product or service.
Wrapping up 
White label partnership helps build a valuable association with clients and fosters your agency's growth. To stay ahead in the competition, you must include innovative business strategies when starting the partnership. 
If you are still wondering who to partner with, go for NonStopWork, a leading white label agency offering a wide array of services at competitive prices. To get our services or know about these in detail, book a call today!